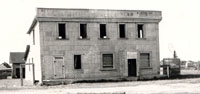 1944-1963



GEOGRAPHICAL LOCATION
Woodridge is in southern Manitoba around 144 kilometres from Winnipeg and 60 kilometres from St. Anne des Chenes. Its neighbours are: St. Labre, La Broquerie, and Marchand.

FOUNDING
Bishop Georges Cabana, then assistant archbishop of St. Boniface, was very concerned about the limited religious knowledge of the Catholics in the numerous parishes of his diocese. Since he had been a professor at the seminary in St. Hyacinthe, he knew the Sisters of Saint Joseph. Father Lionel Joyal, parish priest of Woodridge, therefore asked the bishop to see about getting Sisters of Saint Joseph for the town school. On his behalf, the bishop made this request to Mother St. Jean Berchmans (Blanche Meunier), superior general. Despite a shortage of available sisters, he received a favourable answer: Woodridge would have its sisters in the fall of 1944.

FOUNDERS
Sister St. Camille de Lellis (Alma Ledoux)
Sister St. Armand (Cédonie Rivard)
Sister St. Jean du Thabor (Gisèle Vaillancourt)
Sister Helene de Jesus (Hélène Dion)
Sister Aimée de l'Enfant Jesus (Béatrice Belval)

DEPARTURE
On July 23, 1963, the sisters left Woodridge after having worked with dedication with the children and parishioners.
Go back to last page