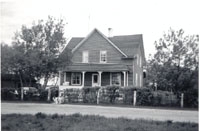 1939-1967



GEOGRAPHICAL LOCATION
Vassar is a small town 145 kilometres south east of Winnipeg. In 1939, most of the population was employed by the lumber industry.

FOUNDING
Father Alphonse Dufort, parish priest, asked Bishop Émile Yelle, assistant archbishop of St. Boniface to do the town a favour: get some Sisters of Saint Joseph for the local school. An official request was sent to Mother St. Jean Berchmans (Blanche Meunier), superior general, who promised sisters for fall, 1939.

FOUNDERS
Sister St. Elphege (Noëlla Lamoureux)
Sister St. Jean du Thabor (Gisèle Vaillancourt)
Sister St. Albert le Grand (Éléonore 'Marie' Arpin)
Sister du Sacre Coeur de Jesus (Catherine Farmer)

DEPARTURE
On June 30, 1966, the sisters withdrew from Vassar after 27 years of dedicated work with the children and their families.
Go back to last page