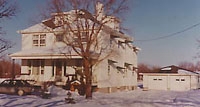 1943-2001



GEOGRAPHICAL LOCATION
St. Vital is east of the Red River, around 8 kilometres from the St. Boniface Cathedral. The sisters' house was located on St. Mary's Road which passes through St. Boniface on the way to downtown Winnipeg.

FOUNDING
Bishop Georges Cabana, then assistant archbishop of the St. Boniface diocese since 1941, invited the communities who did not have houses in the city to take up residence in the surrounding parishes and to open Catholic schools there.
In 1942, the sisters had an opportunity to buy a house that belonged to Miss. Strindlund. And so, following Bishop Cabana's official request to Mother St. Jean Berchmans (Blanche Meunier), superior general, for some sisters, two classrooms be opened in September 1943, in the sisters' residence in St. Vital and sisters were designated to teach there.

FOUNDERS
Sister Marie du Bon Pasteur (Alexina Vincent)
Sister Marie Emilie (Yvonne Dansereau)
Sister Veronique du Sauveur (Marie-Ange Roy)
Sister Therese du Precieux Sang (Thérèse Ducharme)

DEPARTURE
In the summer of 2001, the sisters withdrew from this city.
Go back to last page