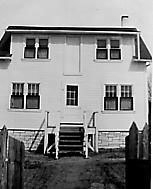 1943-1962



GEOGRAPHICAL LOCATION
In 1943, St. Labre was a village comprised of six houses, the church, the school and the convent. St. Labre is 128 kilometres south-east of Winnipeg and eleven kilometres from Woodridge.

FOUNDING
In October 1942, a group of parishioners asked their parish priest to find them some sisters for their school. He contacted Mother St. Jean Berchmans (Blanche Meunier) and asked for Sisters of St. Joseph. He received a 'no' because there were no sisters available. In 1942, the priest received a letter from Mother St. Jean Berchmans saying she would be sending sisters for the fall of 1943.

FOUNDERS
Sister Marie des Cinq Plaies (Délima Morin)
Sister St. Jean d'Avila (Marie-de-Lourdes Marcoux)
Sister Joseph du Redempteur (Madeleine Brault)

MISSION
One sister taught grades 1 to 8 in the one-room school. The second sister worked as a volunteer teacher aide for 18 years.

DEPARTURE
On July 2, 1962, the sisters left this mission with regrets after 19 years of dedicated service there.
Go back to last page