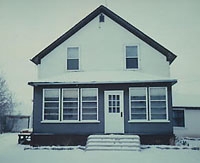 1938-1991



GEOGRAPHICAL LOCATION
St. Genevieve is part of the St. Boniface diocese. It is in the same area as Richer, St. Anne and Thibaultville.

FOUNDING
The parishioners of St. Genevieve wanted sisters to teach their children. In January, 1938, Father François Normandin, the parish priest, asked Bishop Émile Yelle, assistant bishop of St. Boniface, for permission to entrust the school to sisters. Permission was given and he asked Mother St. Jean Berchmans (Blanche Meunier), superior general, for some Sisters of St. Joseph. He received an affirmative answer. The parishioners built a convent and the sister took over the management of the school in the fall.

FOUNDERS
Sister St. Pierre Chrysologue (Noëlla Tougas)
Sister Louise de France (Éva Morin)

MISSION
The sisters' primary activity was teaching but they were also involved in the Eucharistic Movement with the children and with the Young Catholic Students (YCS) youth group.

DEPARTURE
In 1971, the sisters left the parish of St. Genevieve.

REOPENING (1976)
As of 1974, the parish of St. Genevieve no longer had a parish priest. The church council and Father Gérard-M. Lévesque asked Mother Catherine Farmer, superior general, for sisters to work in the parish. They were to see to liturgy, to plan pastoral activities and to visit the sick. They would live in the rectory which had been empty for two years.

NEW RESIDENTS
Sister Emma Guichon
Sister Emma Brisson
Sister Clémence Hutlet

FINAL DEPARTURE
June 1991.
Go back to last page