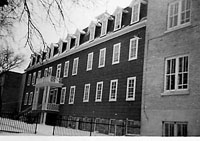 1914-1973



GEOGRAPHICAL LOCATION
The Sandy Bay Indian School is five kilometres from the shore of Lake Manitoba. Sandy Bay Indian Reserve is part of the St. Boniface diocese.

FOUNDING
On August 27, 1913, the archbishop of St. Boniface, during a visit to St. Hyacinthe, asked Bishop Alexis-Xyste Bernard of St. Hyacinthe, the first authority of the Sisters of Saint Joseph, for some sisters to replace the Daughters of the Cross, originally from France, who had left Sandy Bay. Five Sisters of Saint Joseph arrived on August 3, 1914.

FOUNDERS
Sister St.Leon (Alida Robichaud)
Sister Marie de Lorette (Olivine Dufault)
Sister St. Omer (Graziella Maynard)
Sister Marie du Sacre Coeur (Graziella Lussier)
Sister St. Calixte (Orise Lavallée)

DEPARTURE
On August 31, 1973, the sisters withdrew from Sandy Bay after 59 years of dedicated work there.
Go back to last page