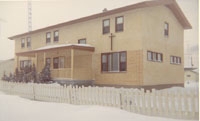 1948-1993



GEOGRAPHICAL LOCATION
The town of Powerview is five kilometres from St. Georges and 1.5 kilometres from Pine Falls, the pulp and paper town at one time owned by the Abitibi Company. In its early years, Powerview was called Tin Town and its mailing address was Pine Falls.

FOUNDING
Father Gustave Couture, parish priest, along with the Leonard District School Board, asked the general council of the Sisters of Saint Joseph for some teaching sisters for Leonard School. A residence was available for the sisters right beside the school. After visiting the buildings and talking to the general council, Mother St. Madeleine de Pazzi (Sara Cordeau), superior general, agreed to send some sisters in August 1948.

FOUNDERS
Sister St. Elphège (Noëlla Lamoureux)
Sister St. Athanase (Elisa Lussier)
Sister St. Florence (Marie Mélançon)
Sister St. Alberic (Marie-Rose Verrette)

MISSION
In the beginning, the sisters dedicated themselves primarily to teaching. In later years, they gave catechetics lessons outside of school hours as well as initiation to the sacraments. They played an active part in liturgy services. Some visited the lonely, the aged, as well as prisoners.

DEPARTURE
On September 1, 1993, the sisters left Powerview for good.
Go back to last page