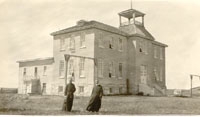 1929-1962



GEOGRAPHICAL LOCATION
Mariapolis is in the Pembina Mountains, 192 kilometres south-west of Winnipeg. Here the Pembina River and the Swan River flow into Swan Lake. This mountainous region is very fertile.

FOUNDING
For over fifteen years, Father Rousseau repeatedly asked for teaching sisters for the town school. Finally, in 1972, his wish came true, with the help of Father Jean-Baptiste Formosse, who had been teaching at the school for two years.

FOUNDERS
Sister St. Jean Berchmans (Blanche Meunier)
Sister St. Maurice (Amanda Comeau)
Sister St. Pierre Chrysologue (Noëlla Tougas)
Sister St. Gregoire le Grand (Claire Duval)
Sister Marie du Sauveur (Marie-Anna Marcoux)

DEPARTURE
The sisters left Mariapolis for good on July 31, 1962.
Go back to last page