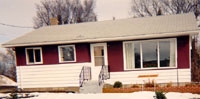 1993-1997



GEOGRAPHICAL LOCATION
Bruxelles is situated 170 kilometres south-east of Winnipeg. It is surrounded by the towns of Mariapolis, Swan Lake, Indian Spring, and Notre Dame de Lourdes.

FOUNDERS
Sister Béatrice Belval
Sister Laurette Bernatchez

WORK OF THE SISTERS
Some parents refused to send their children to public school. Because these parents were opposed to the sexual education program taught in the public school, they decided to teach their children themselves. They set up a home teaching situation and asked for a Sister to teach religion, French and mathematics. And so the Sisters of Saint Joseph accepted to help them out.

DEPARTURE
On June 27, 1997, the Sisters left definitely, after four years of immeasurable dedication to this work with these people who were in great need.
Go back to last page