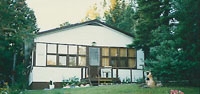 1972-1990



GEOGRAPHICAL LOCATION
Sioux Narrows is a small Ontario town located on an island in Lake of the Woods, 74 kilometres from Kenora.

FOUNDING
When Sister Yvette Nolin left Kenora, she was hired as truant officer for Father Moss School in Sioux Narrows. This school was a separate school administered by the Kenora Catholic School District school board.

FOUNDERS
Sister Yvette Nolin
Sister Alexina Miclette
Sister Noëlla Rémy
Sister Marie Saint-Pierre

MISSION
The sisters focused their attention on the young and the poor. They taught catechism after school hours to whoever showed up for lessons. One sister was housekeeper and cook for the Oblate Fathers. In all areas of apostolate, the sisters always worked with faith and with co-operation.

DEPARTURE
The sisters withdrew from Sioux Narrows in 1990, after 17 years of dedicated service there.
Go back to last page