Visit of Mr. Pierre Lussier, painter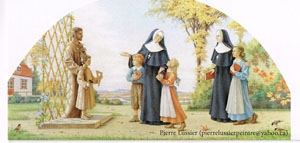 On September 12, 2018, Mister Pierre Lussier, the painter who produced the beautiful painting placed in the Sainte-Anne-de-Beaupré basilica, did us the honor of his visit, for this 141st anniversary of foundation.
His lecture made it possible to better understand the meaning of the work and the interiority of man: "Our good Lord has entrusted me with the mission of painting and it allows me to grow spiritually. Mother St. Joseph, I immediately loved her; from the beginning; her smiling face inspired me".
The subject of the painting is "The Love of God", because one must not idolize the saints. The heart of Mother Elizabeth, her hands, her whole being is at the service of the love of God. She made herself become very small, she suffered but she was a visionary. The heads of all the persons are turned towards her who is not looking at us because she is focused on the mission.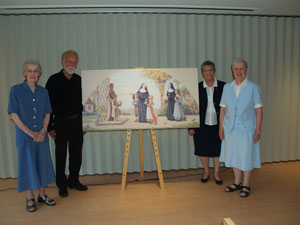 The landscape is of great importance. It is not a photograph but a symbol. Is nature not greater than humanity? Heaven is the element that speaks most of the great goodness of God. Some details (trees, flowers, birds) show the rural rooting of the foundation.
Obedience, with a capital O
The persons, placed in three groups, have a beautiful connection between them. Saint Joseph and the Child Jesus have their eyes closed, because they are listening to the Father's will. The extended hand of Mother St. Joseph indicates her attentive listening to God."
 After the presentation, the numerous comments filled with praise made by the sisters showed great appreciation. To the question: "What word would summarize the life of Mother Elizabeth?" Mister Lussier spontaneously replied: "OBEDIENCE!" With a beautiful capital O because she accepted to be sculpted by the Lord!
Sister Louise Millette, Director of the Elizabeth-Bergeron Center, thanked her guest: "You have allowed us to take another look at this magnificent work. Thanks to you, Mother Elizabeth now shines in another milieu, the Sainte-Anne-de-Beaupré basilica. We want her to be close to you and your family! "
Sr Pauline Vertefeuille, sjsh
Powerpoint:  Inauguration of the painting at Sainte-Anne-de-Beaupré
Go back to last page