Visit of Bishop Christian Rodembourg, m.s.a.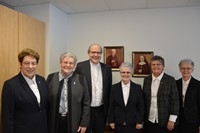 On January 25th, 2018, His Grace Christian Rodembourg, m.s.a., did us the honor of a first visit since his episcopal ordination received on September 17th, 2017. He becomes the 12th bishop of the diocese of St. Hyacinthe.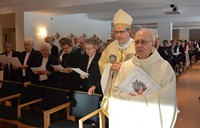 After presiding over the Eucharist in the chapel of the «Jardins d'Aurelie», he visited our ill sisters. He then had dinner with the community.
At the beginning of the celebration, Sister Claudette Robert, Superior General, welcomed him and gave an overview of the history of the congregation. "In the footsteps of Bishop Louis-Zephirin Moreau and Mother Elizabeth Bergeron, we have committed with humility, joy and simplicity to the service of the integral education of youth. Over the years, over one hundred parishes in the diocese of St. Hyacinthe have welcomed the Sisters of St. Joseph. Like our founders and Joseph, our patron, we try to reveal a God who is close to every human being. With you, Your Grace, we want to live "the immense tenderness of God* " with all the people on our paths.

* Bishop Rodembourg's motto is: "In your immense Tenderness" (Nehemiah 9,19).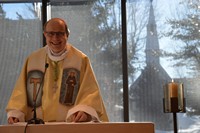 At the heart of the celebration, the new bishop of  St. Hyacinthe addressed the sisters:
In this liturgy of St. Paul's conversion, we are invited to a daily personal conversion. We have all the facets of God in our lives, who knows very well who He chooses.
Each person has what it takes to accomplish his mission. Together, we must seek God's desire, his will on us and to respond every day with joy, compassion and hope. Inner peace is the criterion that our answer is the right one. "
 Photos: Bishop Rodembourg greeted the sisters at each table in the dining room.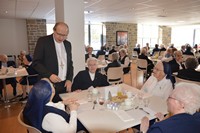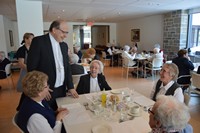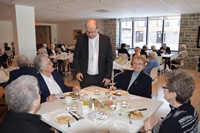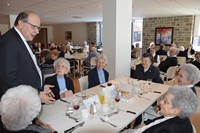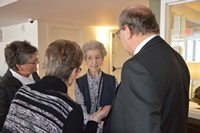 He also met the sisters at the infirmary. Sister Claudette Robert and Sister Denise La Barre introduce Sister Thérèse André.
 Photos: Mr. Luc Benoît, Communications Manager at the diocese of Saint-Hyacinthe
We give thanks for this beautiful day!
Pauline Vertefeuille, sjsh
Go back to last page