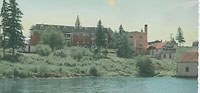 1930-1972



GEOGRAPHICAL LOCATION
The St. Mary's Indian Residential School was situated on an isthmus in the Lake of the Woods, in south-west Ontario, around 120 kilometres east of Winnipeg.

FOUNDING
Bishop Arthur Béliveau, archbishop of St. Boniface, and Father Josaphat Magnan, provincial superior of the Oblates beseeched the major superiors of the Sisters of Saint Joseph to send sisters for the Indian mission on Lake of the Woods. Mother St. Maxime, (Marie-Louise Bouvier), superior general, and her assistants gave their consent.

FOUNDERS
Sister St. Léon (Alida Robichaud)
Sister Marie du Sacré Coeur (Graziella Lussier)
Sister St. Praxède (Augustine Messier)
Sister St. Antonin (Ida Flibotte)
Sister St. Nazaire (Marie-Louise Aucoin)
Sister Thérèse de l'Eucharistie (Angélina Sylvestre)
Sister du Précieux Sang (Marie Dufresne)

MISSION
Three sisters taught in the classrooms or gave music lessons. Two were responsible for sewing clothes for the boys and girls while the other two were responsible for cooking and baking. All gave of themselves selflessly, not counting the hours, nor the days spent making God known and present to the native children.

CLOSING OF THE SCHOOL
On September 20, 1972, the sisters regretfully left after having given their best to this mission.
Go back to last page