Opening of the new SJSH museum
A new museum highlighting the history of the Sisters of St. Joseph of St. Hyacinthe was inaugurated at the chapel of the Seminary of St. Hyacinthe on March 31, 2016.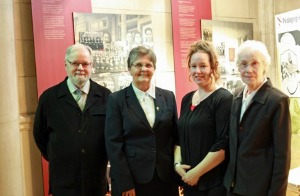 Were present for the inauguration: the canon Gilles Mathieu, superior of the seminary, Sister Claudette Robert, superior general of the Sisters of St. Joseph, Ms. Anick Chandonnet, Director of the Religious Heritage Society and sister Suzanne Gloutnez, collaborator of the museum.
Objects, artifacts, and photographs of the former museum of the  Mother House on Raymond Avenue are placed in the small chapels set along the choir of the Chapel.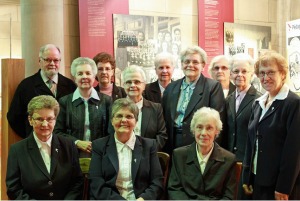 Sister Claudette Robert thanked the initiators of this project: "You have awakened our memory by retracing the history of our museum and reviving our past with these objects, these artifacts, this video ... our museum is remembered with affection and reminds us of sweet memories. We were deeply touched by the tour, especially when watching the video on the history of our chapel, with all its changes, its architecture, its furniture and its inspiring scenery.
Thank you to all those who worked to achieve this new museum. Our sincere congratulations for the artistic beauty of this project that highlights our heritage and makes it accessible to the public. »
Text and pictures: Pauline Vertefeuille, sjsh
Go back to last page