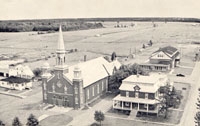 1895-1989



GEOGRAPHICAL LOCATION
St. Victoire, in the county of Richelieu, is situated seven miles from Sorel in the southern part of the province. The parishes surrounding it, other than St. Gabriel Lalemant of Sorel are St. Robert on the north-east side and St. Ours on the south-east side. On the west side, the Richelieu River separates it from the parishes of Mary Auxiliatrice and St. Joseph both in Sorel.

FOUNDING
On January 6, 1895, the Superintendent of Public Schools addressed a letter to the members of the school board, obliging them to build a school in the town. On July 15, at the first meeting of the board members, Mr. Pierre Boudreau moved that Father Joseph Noiseux be authorized to ask the bishop of St. Hyacinthe for some Sisters of Saint Joseph to teach at the school located in St. Victoire and serving the children of the surrounding region under the best possible conditions. This motion was seconded by Mr. Pierre Chapdelaine. Their request was granted.

FOUNDERS
Sister Marie-de-l?Enfant-Jésus (Graziella Dansereau)
Sister des-Saints-Anges (Mélina Dupont)
Sister Saint-Zéphirin (Malvina Sylvestre)
Sister Marie-du-Bon-Secours (Odina Richard) who arrived in February

DEPARTURE
On July 1, 1989, the sisters left St. Victoire to serve elsewhere.
Go back to last page