You are here: Home / Associated Text
Our More Than Humble Beginnings

As soon as they arrived, the Reverend Mother Superior of the Precious Blood Congregation sent them generous gifts: a writing desk with essential supplies, some food, and a beautiful statue of Saint Joseph.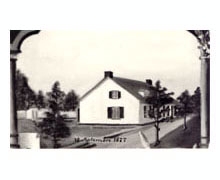 Around three o'clock, Bishop Moreau came to visit. He found them settled in the poor house; they had no furniture, no kitchen utensils; an old goblet they found in the classroom was their only possession; they would use it for drinking as well as for washing the potatoes. The next morning, since they had no wood with which to cook their breakfast, they gathered and burned some wood chips they found near the fence. 

On Monday, September 17, Sisters Langevin and Blanchette opened the school. Eighty students showed up. The following week the sisters were sorely tested. Sister Langevin, who was responsible for grade one, became ill. Needless to say, the Superior was very concerned when she saw Sister Blanchette obliged to work alone with all these rebellious children.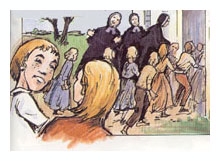 Nevertheless, having put their trust in God and placed themselves under the protection of their good Father, Saint Joseph, they knew they would not be overwhelmed. In fact, this test did not last long; after only a few days, Sister Langevin was able to return to her teaching. The Sisters continued to have tangible signs of Saint Joseph's protection. Not a day passed without his inspiring some kind soul to provide them with alms.

The kind Bishop came to visit them twice a week.

In addition to the various discomforts the Sisters already endured in their little house, winter brought them serious health problems. The walls were so humid during the day that ice formed on them at night. In the morning, it was impossible to open the doors until the Chaplain arrived to celebrate mass. While he banged on the door from the outside, the Sisters did the same from inside until, eventually, they were able to open the door.

Thus were the humble beginnings of Congregation of the Sisters of Saint Joseph of Saint Hyacinthe, founded on September 12, 1877.
Go back to last page