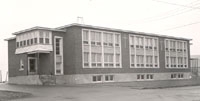 1959-1970



GEOGRAPHICAL LOCATION
St. Sabine's neighbours are : St. Brigide on the north side, St. Romuald de Farnham on the north west, St. Ignace de Stanbridge on the south east, and St. Alexandre on the west side.

FOUNDING
In 1957, the members of the St. Sabine school board, who wanted to centralize the school, and Father Henri Fournier, their parish priest, visited Mother St. Madeleine de Pazzi (Sara Cordeau), superior general of the Sisters of Saint Joseph, to ask for sisters.
Sisters were promised for 1959. This made it possible for them to obtain a grant from the Department of Education to build a new school. In 1958, this school opened its doors to 155 pupils form the parish. Mrs. Roger Tringle was the principal. The school included 5 classrooms. In August 1959, the sisters took on the management of this new school.

FOUNDERS
Sister St. Claire (Claire St.-Germain)
Sister Marie de Neiges (Anne-Marie Comeau)
Sister Emile du Sacre Coeur (Bernadette Plante)
Sister Madeleine de Galilée (Madeleine L'Heureux)

DEPARTURE
In June 1970, the sisters left the parish for good.
Go back to last page