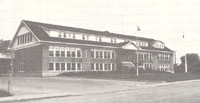 1908-2000



GEOGRAPHICAL LOCATION
St. Rosalie's neighbours are : St. Simon on the north side, St. Liboire on the east side, St. Dominque and St. Joseph of St. Hyacinthe on the south side.

FOUNDING
Since Father Jean-Baptiste Guy and the members of the school board persistently asked Mother du Coeur de Jesus (Marie-Louise Bouchard), superior general, to send sisters to manage the town school, she sent some in September 1908.

FOUNDERS
Sister St. Leon (Alida Robichaud)
Sister St. Etienne (Marie-Louise Hébert)
Sister Marie de la Nativite (Anastasie Millier)
Sister St. Basile, novice (Bernadette Lecours)

MOVE
In June 1985, the sisters left the residence provided for them by the school board since 1957 and moved to Tanguay Street.

DEPARTURE
After working with the people of St. Rosalie for a great many years, the sisters left the parish for good in July 2000.
Go back to last page