Saint Boniface (Despins Residence)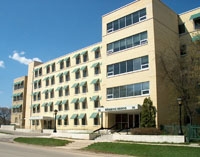 2005-2011  



GEOGRAPHICAL LOCATION
The building called Despins Residence is situated at the intersection of Despins and Taché Streets, at the heart of Saint Boniface on a large stretch of land of 3.5 acres facing the Red River. It is close to many local services such as the Saint Boniface Cathedral, the Saint Boniface General Hospital, Taché Centre (a Personal Care Home), many restaurants, stores, and shops. All are easily accessible. What is particular to the Despins Residence is that it shelters seven different religious communities under the same roof. The four apartments where the Sisters of Saint Joseph live are adjacent to the west end of the hallway on the fourth floor.

COMMITMENTS
Parochial:
Sister Thérèse André: Communion at the Saint Boniface Hospital, Animator of a Small Christian Community
Sister Alice Chèvrefils: Member of the Cathedral Choir
Sister Patricia Laliberté: Member of the RCIA Core Group of Lorette
Sister Odile Saint-Pierre: Communion Minister in the homes, Member of a Small Christian Community

Humanitarian:
Sister Alice Chèvrefils: Pastoral Care of the sick at Taché Centre.

DEPARTURE
The sister of Saint Joseph of Saint Hyacinthe left Manitoba in September 2011.
Go back to last page