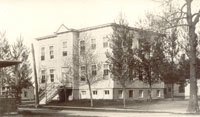 1903-1973



GEOGRAPHICAL LOCATION
This parish has as neighbours La Presentation and St. Hyacinthe on the east side, St. Damase and St. Jean Baptiste on the south side, St. Hilaire and St. Charles on the west side.

FOUNDING
At the request of Father Ludger Guertin and the members of the school represented by Mr. Antoine-Paul Cartier, Mother St. Anne (Rose Meunier), superior general, designated four sisters for the St. Madeleine School. They would arrive in August 1903.

FOUNDERS
Sister St. Thomas d'Aquin (Apolline Morin)
Sister St. Bernard (Eugénie Rocheleau)
Sister St. Raphael (Domitille Hachez)

DEPARTURE
On June 24, 1973, on the feast of Corpus Christi, the parish priest celebrated mass in the school yard. Since the sisters would soon be leaving the parish, he used this opportunity to thank the community of the Sisters of Saint Joseph for the magnificent work they had done in the field of education during their 70 years of presence in the parish.
Go back to last page