Saint Hyacinthe (Notre-Dame Residence)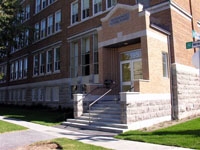 2004-   



SOCIOLOGICAL SITUATION
The Bergeron Residence is no more.  After a history of twenty-seven years, it was not only closed, but it was demolished in the shortest delay. (November 9, 2004).   This Residence had been built for the needs of the Sisters who were teaching at the St. Joseph High School which was situated nearby.  However, this reason did not exist anymore as most of the teachers had retired from teaching.  Moreover, our neighbors, the Insurance Group ING, longed to have our land to enlarge their building and their parking lot.  They wanted to assure the permanence of their business as their head office was in Saint Hyacinthe.  Therefore, the Community collaborated with the city to keep this company in Saint Hyacinthe as a great number of citizens were hired by this company.

History of the Notre Dame Residence
This decision to sell the Bergeron Residence required the relocation of the Sisters who lived there.  Our High School was empty as the students of the first cycle had been moved to another school.  It was decided to restore this school by transforming it into a residence.  As the main entry was on Notre Dame Street, there was no problem in finding a name for the residence.

Founders
48 religious, of which 24 were from the Bergeron Residence, were regrouped in this new dwelling place situated at 2395 Notre Dame: Jocelyne Allard, Marie-Paule Archambault, Marguerite Aussant, Éva Beaudoin, Micheline Beauregard, Lise Berger, Jacqueline Blain, Laure-Hélène Blain, Aline Boisvert, Fernande Boucher, Jeanne-Alice Bousquet, Lucienne Carrière, Thérèse choquette, Céline Comeau, Pierrette Comtois, Johanne Coulombe, Lise Daigneault, Armande Daneau, Juliette De Lisle, Marie-Reine Deslandes, Noëlla Doyon, Marie-Claire Dupont, Ginette Fortier, Jeanne d'Arc Gardner, Agathe Gauthier, Henriette Gemme, Michelle Gill, Estelle Granger, Réjeanne Lamer, Marguerite Larocque, Alice Leblanc, Anita Leclerc, Monique Lemieux, Monique Mathieu, Suzanne Ménard, Louise Millette, Georgette Moreau, Nicole Pellerin, Pauline Phaneuf, Denise Rochon, Ghislaine Salvail, Reine Salvas, Marie Saint-Pierre, Fernande Touchette, Pierrette Tremblay, Colette Vadnais, Gilberte Vadnais, and Pauline Vertefeuille.

Appointments
The Sisters who form the permanent personnel at the Notre Dame Residence must be autonomous and are called to take up an employment according to their ability.  Many work at the Mother House in different sectors: accounting, secretariat, service at the Infirmary, podiatry, and the web site.  Finally, others have a specific mission outside the home: assisting at school breakfasts, helping with homework, doing missionary work, sending out communications, composing articles, visiting the sick and the aged, etc.  That way, every morning, the local community can see almost half of its personnel leave the residence. 
Go back to last page