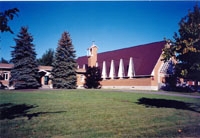 1999-   



GEOGRAPHICAL SITUATION
Situated 40 km from Montreal and the United States, Saint-Jean-sur-Richelieu enjoys a privileged geographical location giving it access to a web of modern and efficient infrastructures: the port of Montreal, the international airports of Montreal and Mirabel, a highway network providing access to major cities as well as a railway network connecting the region to the large Canadian and American centers. The municipal airport also serves the industrial activities of the region.

A HISTORY OF THE MISSION
After the departure of the Servantes du Saint Sacrement in November 1998, the Saint-Jean-Longueil Diocese bought the monastery situated at 80 Lajeunesse in St-Jean-sur-Richelieu. This building later became the Spiritual Resource Centre of St-Jean. In order to ensure a permanent presence at the Centre, Mgr Jacques Berthelet, csv desired an intercommunity team of three religious women. August 16, 1999 marked the arrival of a team comprised of one religious from the Congrégation Notre-Dame, one from the Présentation de Marie, and one Sister of Saint-Joseph de Saint-Hyacinthe. In July 2000, a first Sister left, in 2001, a second one, both due to illness. As of August 2002, the team is composed of three religious of the same Order, namely, the Sisters of Saint-Joseph of Saint-Hyacinthe, who live at 380, boul.Gouin, a residence adjoining the Spiritual Resource Center.

Father Fernand Ostiguy founded the Centre with an intercongregational team composed of:
Sr. Claire Dandurand,pm
Sr. Thérèse Chauvin, sjsh
Sr. Louisette Paradis, cnd

FOUNDING LOCAL COMMUNITY
Sister Thérèse Chauvin
Sister Pauline Robichaud
Sister Denise Bélanger

LOCAL COMMITMENT
The Sisters are involved in faith education. They provide a welcoming presence and support at the Spritual Resource Centre. They are also involved in the parochial life of a Christian community and of a sanctuary of the region. The Sisters who work here wish to be ?Good News? to all the persons they meet.

DEPARTURE
The sisters left this center in June 2012.
Go back to last page