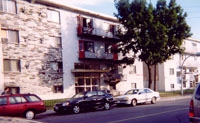 2002-    



GEOGRAPHICAL LOCATION
Montreal North with its population of 7000 people per square kilometer is a quadrangle whose limits are the River des Prairies in the north, Industrial Boulevard in the south, Langelier Boulevard in the west and St. Michel Boulevard in the west. The 1996 census showed that there were 81,581 people living in 11.03 square kilometers. The sisters live near St. Camille which is part of the St. Colette pastoral unit that serves half of the Montreal North sector.

FOUNDING
For two years, a group of sisters journeyed together and reflected on a new project. They defined the community and apostolic guidelines for the project and choose a milieu where these could be achieved. On July 1, 2002, a torrid day, four sisters set out for Montreal North to risk living in this metropolis. That same year, the community celebrated its 125 years of existence.

FOUNDERS
Sister Madeleine Bérubé
Sister Agathe Brodeur
Sister Solange Rajotte
Sister Noëlla Viau

AREAS OF COMMITMENTS
In Montreal North, the sisters live in an impoverished, multiethnic neighbourhood. They live their values: hospitality, attentiveness, sharing, and education. They have chosen to offer people thirsting for spirituality the possibility of living short stays among them. Their sisterly life, in the footsteps of the founders, inspire their spirituality of the Incarnation.
Go back to last page