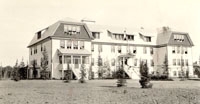 1926-1952



GEOGRAPHICAL LOCATION
Sturgeon Landing is located near the north end of Sturgeon Lake, near the Maligne River estuary.

FOUNDING
A large Indian residential school was needed in this central part of the immense territory entrusted to Bishop Ovide Charlesbois, O.M.I. This school was seen as a means to save the nomad Indian population from the great poverty to which it was condemned because of the rapid decline in hunting and fishing as a means of survival.
In March 1926, Bishop Charlebois travelled to St. Hyacinthe and asked the Sisters of Saint Joseph to ensure, in collaboration with the Oblate Fathers, the management of this residential school which was already under construction. Mother St. Maxime (Marie-Louise Bouvier), superior general, and her council accepted this project.

FOUNDERS
Sister St. Felix de Valois (Diana Cournoyer)
Sister St. Boniface (Élisa Dufault)
Sister St. Arsence (Rose Langstaff)
Sister Marie du Bon Conseil (Alice Lapierre)
Sister St. Julie (Valsérine Cabana)
Sister St. Athanase (Élisa Lussier)
Sister St. Cesaire (Irène Lusignan)

AREAS OF COMMITMENTS
In September 1952, a fire destroyed the school. The government decided not to rebuild in the same place. In October, pupils and staff were relocated in The Pas except for three sisters who continued to teach in the day at Sturgeon Landing until 1953. They then joined the other sisters in The Pas.

DEPARTURE
These last three sisters withdrew from Sturgeon Landing on June 8, 1953.
Go back to last page