Saint Hyacinthe (Louise Bibeau Centre)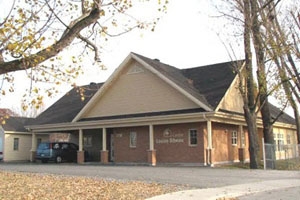 GEOGRAPHICAL LOCATION
The centre is located in the Notre Dame du St. Sacrament parish. It is on Papineau Street.

FOUNDING
In October 1977, the parents of disabled children started to express their need for a place where their children could spend some time while they, the parents, took a break. In June 1980, Sister Louise Bibeau and Sister Denise Rivard set up a project to meet the needs of these parents. On September 3, 1980, three lay people joined the sisters. Together the sisters and the lay workers gave of their time so this centre, then called the Arc en ciel [Rainbow Centre] would function well. The official opening took place on April 26, 1981.

FOUNDERS
Sister Louise Bibeau
Sister Denise Rivard
Sister Jeanne Paradis

DEPARTURE
The sisters left to live elsewhere but continued to work at the centre until the year 2000.
Go back to last page