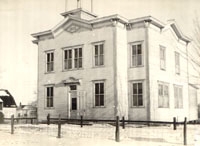 1921-1973 and 1978-1985



GEOGRAPHICAL LOCATION
Situated between the Yamaska and the St. François Rivers, St. Helene has as its neighbours the towns of St. Hugues, St. Simon, St. Liboire, Upton, St. Nazaire and St. Eugene.

FOUNDING
The project of building a large school in order to subsequently ask for Sisters led to many difficulties. Those contributing to the project became alarmed... In 1914, a two-story building with five rooms on each floor, was built. It took Father François-Mathias Gosselin four years of hard work and many attempts to negotiate before he finally obtained Sisters of Saint Joseph of Saint Hyacinthe in 1921.

FOUNDERS
Sister Sainte-Marie-Bernard (Alice Bourassa)
Sister Saint-Ovide (Albina Farly)
Sister Saint-Césaire (Irène Lusignan)
Sister Saint-Pierre-d'Alcantara (Albina Jodoin)

DEPARTURE
The school board needed the rooms occupied by the sisters and so the latter left on June 28, 1973.

REOPENING OF THE MISSION ON AUGUST 4, 1978
After being closed for 5 years, the mission of St. Helene was reopened. Three sisters took up residence in their new home at 320 Principal Street. They rented this from Mr. Henri-Paul Savoie. Sister Micheline Savoie was the 2nd grade teacher and Sister Françoise Caplette the school secretary for the schools in St. Nazaire and in St. Helene.

FINAL DEPARTURE
On June 28, 1985, the Sisters of Saint Joseph left the parish of St. Helene after being once again present there for seven years.
Go back to last page