Asbestos
(St. Joseph School)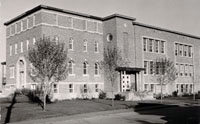 1949-1967


GEOGRAPHICAL LOCATION
Asbestos is a city situated in the north-east section of Richmond and has been, since 1904, a division of the Danville municipality.

FOUNDING OF THE SCHOOL
Father Alphonse Deslandes, founder of St. Isaac Jogues parish, asked the Sisters of Saint Joseph to manage the new school. His wish came true in September 1949.

FOUNDERS
Sister Saint Zacharie (Patricia Bibeau)
Sister Sainte Colombe (Lucie Goyette)
Sister Joseph du Sauveur (Laure Cournoyer)
Sister Sainte Victoire (Fernande Pelletier)
Sister du Saint Rosaire (Christiane Blanchard)

CENTRALIZATION
In 1961, the services provided at the four schools were centralized. In addition, a classical program of studies was offered. 349 students enrolled for high school and 25 in the Latin component.

MOVE
In 1964, the sisters lived in the same residence but taught at St. Elisabeth School.
On August 28, 1967, the sisters left the residence attached to St. Joseph School, on Chasse Street, and moved into a large house on Morin Boulevard, next to St. Elisabeth School.
Go back to last page