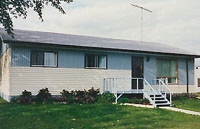 1936-1993



GEOGRAPHICAL LOCATION
Richer is a town in the diocese of St. Boniface. The neighbouring towns are St. Anne des Chenes, La Broquerie, St. Genervieve and Lorette.

FOUNDERS
Sister St. Camille de Leilllis (Alma Ledoux)
Sister St. Jean d'Avila (Marie de Lourdes Marcoux)
Sister St. Jean du Calvaire (Annette St. Jean)
Sister Joseph des Lys (Thérèse Émond)

AREAS OF COMMITMENTS
Teaching at the school was commitment number one. Catechism was taught outside of school hours. Initiation to the sacraments, liturgy and visiting the sick in need were daily commitments.

DEPARTURE
The sisters withdrew from Thibaultville on June 30, 1993.
Go back to last page