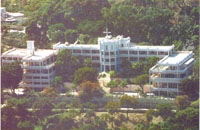 2000-2004



GEOGRAPHICAL LOCATION
The island of Haiti, known in some regions as Hispaniola, is situated in that part of the Atlantic Ocean called Caribbean Sea at the entrance of the Gulf of Mexico.

Haiti, from an Indian word meaning mountainous land, shares this island with the Dominican Republic. It covers the western third of the island, a surface of 27,750km². It is surrounded by the Atlantic Ocean on the north, the Caribbean Sea on the south, the Gulf of Mexico on the west, and the Dominican Republic on the east. Besides the latter, its immediate neighbors are Jamaica (175 km) on the south east of its southern tip and Cuba (86 km) on the northwest.

Port-au-Prince, is the capital of Haiti, the county town of the Western Department, on Port-au-Prince Bay, at the foot of Selle Mountain. The town has a population of 2.4 million [1999 estimate].

Villa Manrèse is on the outskirts of the town of Port-au-Prince and at an hour?s drive from the airport.

PROJECT
Villa Manrèse is a crossroads-meeting place for all organisms, especially religious, but also for lay people working in Haiti. One meets many Canadians and Haitians, but also many Americans and persons of other nationalities who are concerned with international sharing. Villa Manrèse plays an essential role as pied-à-terre for missionaries, religious and laypersons who work in the country.

COMMITMENT
Sister Anita Leclerc works with the Villa Manrèse staff since July 2000. She oversees the maintenance of the rooms of the establishment which can receive as many as a hundred persons at a time and sees to providing a quiet environment favorable to rest and renewal. She also welcomes those just passing through and she does some sewing. She considers it important to provide to those stopping by the chance to enjoy moments of rest and of refreshment in order to be revitalized before returning to the mission field.

Come back to Canada in 2004.
Go back to last page