Saint Hyacinthe (N.-D.-du-Rosaire (Raymond))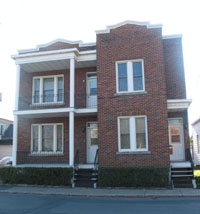 1979-    



GEOGRAPHICAL LOCATION
On July 30, 1979, the Congregation of the Sisters ofSaint Joseph of Saint Hyacinthe purchased a two-storey building on Raymond Avenue situated by Notre-Dame-du-Rosaire Church.

FOUNDING
On October 30, 1979, the Eastern Regional council installed the offices necessary for the regional administration.  Following that, some Sisters dwelled in this house while accomplishing the community services of the region.

CHANGE OF VOCATION
In 1991, the building's vocation was changed.  In July 1992, a new local community was installed to allow the Sisters to work at the mother house which was close by.
Go back to last page