Saint Hyacinthe (ESSJ - Bourdages)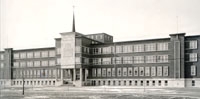 1938-1995



HISTORICAL BACKGROUND
In 1937, Mother St. Jean Berchmans (Blanche Meunier), superior general, contacted Bishop Fabien-Zoël Decelles and asked for official permission to open a regional Home Economics School.
On December 1 of the same year, the Bishop presented the superior general's request to the "Conseil de l'Instruction publique". The same day, the request was accepted. The school opened its doors in September 1938.

FOUNDERS
Sister St. Jean de Matha (Orise Salvas)
Sister St. Thomas de Villeneuve (Délia Claveau)
Sister St. Romuald (Yvonne Loiselle)
Sister St. Lucille (Monique Ménard)
Sister St. Narcisse (Béatrice Cotnoir)
Sister St. Estelle (Flore Brault)

PROGRAMS OFFERED
Over the years, the following study courses were added to the original four-year home economics program: 1943: music
1961: grade ten scientific studies
1962: grade ten general studies with a mathematics option; grade eleven scientific studies with a science and an arts option
1963: grade ten general studies with a mathematics option;
1965: typing
1969: professional sewing classes
1970: short professional program
1975: special education classes

CONSTRUCTION
In 1955, construction was started on a new and bigger house on Bourdages Street. It opened its doors in September 1956. In 1984, a gymnasium and a students' residence for 75 boarders were added to the campus.

THE HOME ECONOMICS SCHOOL BECOMES A HIGH SCHOOL
On October 23, 1969, the Minister of Education recognized the school as serving public interest.

DEPARTURE
The sisters left in 1995.

TURN OVER
In 2001, the congregation entrusted the pursuit of this educational project, the St. Joseph High School, to a lay corporation.
Go back to last page