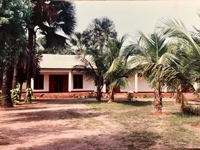 1970-1992



In answer to a request made by Bishop Augustin Sagna of Ziguinchor, a new Church mission - the founding of a junior college to prepare members for an indigenous religious community of women - became a reality in the bush village of Djifangor.

The Sisters of Saint Joseph founded this private Catholic college to provide high school level education. Muslims and Animists were also welcomed to attend the college.

Junior Education
The junior college welcomed the Daughters of the Sacred Heart of Mary candidates. In 1983, the Daughters of the Resurrection, a new Senegalese community also sent its candidates. In 1992, when the Sisters of Saint Joseph left the college, 29 indigenous women had made their religious life vows.

Educational Mission
At first, the sisters taught the sixth grade girls (the equivalent of Quebec's secondary 1). An additional level was added each year until a full junior level education was available (sixth grade plus three additional years).

During the first two years (1970-1972), the college included the sixth grade, the last year of elementary education, in order to favour the education of the girls who were mainly from bush schools.

Health Services
The sisters also worked in a leprosy hospital and a dispensary.

Pastoral Ministry and Community Action
From 1977 on, projects leading to immersion in the milieu increased: liturgy, catechetics, working with women, youth groups.

FOUNDERS
Sister Gisèle Bernier
Sister Sarah Gaucher
Sister Fernande Deslandes
Sister Monique Pion
Sister Monique Millette

DEPARTURE
In 1992, the Sisters of Saint Joseph left Djifangor and returned to Canada after having worked there for 22 years.
Go back to last page