Saint Joachim de Shefford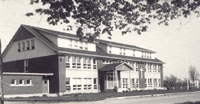 1959-1984



GEOGRAPHICAL LOCATION
St. Joachim is surrounded by the following towns: Granby, Waterloo, Roxton Pond, Roxton Falls, Valcourt, and St. Anne de Stuckley.

FOUNDING
On December 5, 1957, the members of the school board asked Mother St. Madeleine de Pazzi (Sara Cordeau), superior general, to give them sisters for the central school which they planned to build for the 1958-59 school year. In fact, the school was ready in 1959.

FOUNDERS
Sister St. Aurelien (Denise Chicoine)
Sister Marie-Angèle (Armande Daneau)
Sister Reine-Marie (Jeannette Paquette)

DEPARTURE
On July 4, 1984, the sisters left this parish for good after 25 years of dedicated work with the local children and the kind people of St. Joachim.
Go back to last page