Saint Boniface (Masson Street)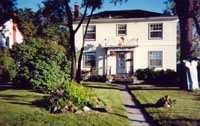 1973-2005



GEOGRAPHICAL LOCATION
Saint-Boniface, situated to the east of Winnipeg, is separated from it by the Red River. Richer and Sainte-Geneviève are to the east, Lorette to the south east, and Saint-Vital to the south west.

FOUNDERS
Sister Denise Chicoine
Sister Gabrielle Morin
Sister Hélène Dion
Sister Rose Cournoyer
Sister Cécile Trudeau
Sister Alexandrine Grenier

COMMITMENTS
The Sisters worked in hospitals and surrounding schools.

DEPARTURE
On August 26, 2005, the sisters left St. Boniface for good.
Go back to last page