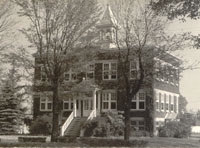 1934-1965



GEOGRAPHICAL LOCATION
The parish of St. Basile is surrounded by: Richelieu on the south east side; Chambly on the south side; St. Bruno in the west; and Beloeil in the North.

FOUNDING OF THE CONVENT
In 1934, Father Ernest Marsan, with the agreement of the school board, asked Mother St. Ignatius of Loyola (Marie-Louise Gatien), superior general, to send some sisters for the town school. His request was granted. St. Basile was the first parish in the diocese of St. Jean to receive Sisters of Saint Joseph.

FOUNDERS
Sister Saint-Raymond-de-Pennafort (Augustine Girard).
Sister Sainte-Jeanne-de-Valois (Marie-Jeanne Dupont).
Sister Saint-Éloi (Cora Daunais).
Sister Louis-Zéphirin (Louisianne Laliberté)

DEPARTURE
The sisters left the parish on June 25, 1965.
Go back to last page