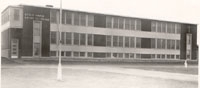 1915-1977



GEOGRAPHICAL LOCATION
This parish is situated in the county of St. Hyacinthe, 5.5 kilometres from the city of St. Hyacinthe. The Yamaska River separates it from St. Hugues and St. Simon. St. Thomas d'Aquin is its neighbour on the south side and St. Jude on the west side.

FOUNDING
In spring 1915, Father Ulric Charbonneau, parish priest, seconded by the members of the school board, beseeched Mother St. Ignace de Loyola (Marie-Louise Gatien), superior general, to provide sisters for the local school. When the superior general told him that she had only sick sisters left, he answered: "Give me your sick sisters, Mother, and the good Lord will bring them back to health." And so, four sisters who were in the infirmary at the time were sent to St. Barnabe South, in August.

FOUNDERS
Sister St. Maxime (Marie-Louise Bouvier)
Sister Marie du Rosaire (Marie-Louise Girouard)
Sister St. Theodore (Marie-Anne Gendron)
Sister Marie Emmanuel (Robertine Dupont)

MOVE
On November 30, 1960, the sisters moved into their convent which was part of the new school

DEPARTURE
In January 1978, the sisters left this parish for good, after being present there and dedicated for 63 years.
Go back to last page