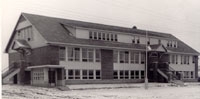 1935-1975



GEOGRAPHICAL LOCATION
St. Amable is 33 kilometres from Montreal and 44 kilometres from St. Hyacinthe. The neighbouring towns are Vercheres on the north side, St. Marc on the east side, and St. Julie and Varennes on the south side. From the centre of town, one can admire Mount Beloeil, Mount St. Bruno and Mount Royal which are not far away.

FOUNDERS
Sister St. François de Sales (Marie-Rose Rémillard)
Sister St. Vincent Ferrier (Bernadette Légaré)
Sister Elisabeth de la Trinité (Marie-Anna Garand)
Sister St. Jean du Sacre Coeur (Thérèse Gatien)

DEPARTURE
In July 1975, the sisters left the parish of St. Amable and went to live in St. Julie.
Go back to last page