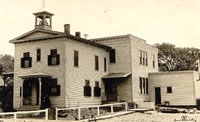 1902-1993



GEOGRAPHICAL LOCATION
The town of Roxton Pond is surrounded by St. Cecile de Mliton, St. Valerien, Roxton Falls and St. Joachin.

FOUNDING
In 1902, Father Louis-Arthème Dutilly asked for Sisters of Saint Joseph to manage the local school. Mother St. Anne (Apolline Dancause), superior general, designated three sisters for this responsibility.

FOUNDERS
Sister Marie de l'Enfant Jesus (Graziella Dansereau)
Sister St. Etienne (Marie-Louise Hébert)
Sister St. Laurent (Laura Mélançon)

A FIRE AT THE CONVENT
On February 9, 1933, a fire broke out in the chimney of the grade two classroom. By six o'clock, the fire was under control but there was now a hole in the roof. The classrooms and the school books were damaged; the house uninhabitable. The school board temporary rented another house and the salvageable contents of the damaged school were moved there. The sisters, who had gone to the Mother House, returned on February 25. A second house was rented by the school board and four classrooms were more or less set up. Life returned to normal.

MOVING
Since the number of pupils increased considerably, the sisters had to leave the rooms they were using as their residence so these could be transformed into classrooms. The sisters moved into a house at 837 St. Jean Street, on June 13, 1984.
On September 14, 1989, they moved again, this time to 928 Elmire Street. This house was in fact the convent the Sisters of Saint Joseph had originally lived in, back in 1902.

DEPARTURE
Since June 1986, there are no longer sisters working at the school. Given their decreasing human resources, the sisters left the parish of Roxton Pond, for good, on June 30, 1993.
Go back to last page