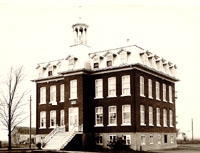 1907-1975



GEOGRAPHICAL LOCATION
Richelieu is situated on the east shore of the Richelieu River across from Fort Chambly. The parish is west of St. Gregoire and Marieville, north of St. Anthanase of Iberville, south of St. Mathias. The name of the parish is Notre Dame of Bonsecours.

FOUNDING
Father Romuald Lamoureux, parish priest, after convincing his parishioners that they needed religious teachers for their children, asked Mother of the Heart of Mary (Marie-Louise Bouchard), superior general of the Sisters of Saint Joseph of Saint Hyacinthe, to send some sisters for the town school. His request received an affirmative answer.

ARRIVAL OF THE SISTERS
On August 17, 1907, the Sisters of Saint Joseph took up residence in the house of Mr. Toussaint Lavallée which was situated near the school.

FOUNDERS
Sister St. Francis Xavier (Virginie Lussier)
Sister St. Edouard (Régina Bilodeau)
Sister St. Cecile (Claudia Rocheleau)
Sister St. Blandine (Philomène Cournoyer)

CHANGES AND DEPARTURE
The Sisters moved into the old schoolhouse at the end of June 1911.
On March 10, 1912, they moved into the new convent which also served as a school. In 1975, the Sisters moved into a residence at 522 First Street, Richelieu, which faced the River.
On July 14, 1976, the sisters left Richelieu.
Go back to last page