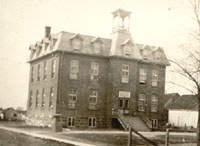 1912-1977



GEOGRAPHICAL LOCATION
The parish of St. Simon is located in what was once the south west part of the Ramesay Seigniory. North west of the town and across the Yamaska River is St. Barnabe. The other parishes bordering on St. Simon are: St. Hugues on the north side, St. Helene on the east side, St. Liboire on the south east side and St. Rosalie on the south side.

FOUNDING
Father Georges Dion, parish priest, invited Mother St. Ignace de Loyola (Marie-Louise Gatien), superior general, and Mother Foundress (Élisabeth Bergeron) to visit the convent.

FOUNDERS
Sister St. Jean Berchmans (Blanche Meunier)
Sister St. Jean de la Croix (Régina Desmarais)
Sister St. Eugene (Delvina Vincent)
Sister Marie de l'Annonciation (Lydia Corriveau)

DEPARTURE
In 1977, the sisters left St. Simon, after sixty-five years of devotedness.
Go back to last page