Racine (Notre Dame de Montjoie School)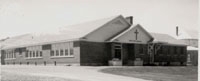 1952-1988



GEOGRAPHICAL LOCATION
This town is located along the Canadian Pacific Railroad that leads to Sherbrooke. Brandy Creek, a tributary of the Noir [Black] River, passes through the town.
The parish of St. Theophile d'Ely has as neighbours : St. Denis de Brompton on the east side; Valcourt on the west side; Melbourne and Richmond on the north side, and Bonsecours and Lawrenceville on the south-west side.

FOUNDING
In 1950, Father Xyste Désautels, parish priest, asked Mother St. Madeleine de Pazzi (Sara Cordeau), superior general, for some Sisters of Saint Joseph for the new school. Sisters were sent in 1952.

FOUNDERS
Sister St. Vital (Marie-Anna Benoit)
Sister St. Louis (Isabelle Boulay)
Sister St. Joseph Calasantz (Laurentia Nadeau)

DEPARTURE
In 1988, the sisters left the parish for good.
Go back to last page