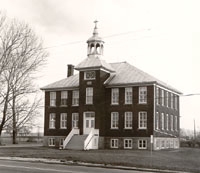 1923-1968



GEOGRAPHICAL LOCATION
St. Peter of Verone parish is better known as Pike River which got its name because the Pike River passes through the town on its way to the Missisquoi Bay. Situated south-west of Missisquoi County, this parish has as neighbours: St. Sebastien, Notre Dame of Stanbridge, Bedford, St. Armand and Venise in Quebec.

FOUNDING OF THE CONVENT
In 1922, it was decided that, instead of repairing the rural schoolhouses, teaching would be centralized in one school which was entrusted to the Sisters of Saint Joseph of Saint Hyacinthe.

FOUNDRESSES
Sister Eulalie (Rose-Alma Rainville)
Sister Mary of the Crucifix (Louise Dufresne)
Sister Madeleine of Jesus (Lucienne Létourneau)
Sister St. Angela of Merici (Sylvia Bergeron)
Sister of the Sacred Heart (Cécile Bousquet)

DEPARTURE
In June 1968, given the small number of students attending, the school board closed the school. The sisters left the parish after working there for 45 years.
Go back to last page