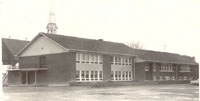 1934-1933



GEOGRAPHICAL LOCATION
Notre Dame is part of Missisquoi County. It is situated south of St. Alexandre, north-east of the parishes of Pike River and St. Sebastien. On the opposite side, a sandy hill separates the parish from that of St. Ignace of Bedford. The parishes of St. Sabine is on the north-east side of Notre Dame.

FOUNDING
In 1934, Father Charbonneau, parish priest, wanted some sisters to take on the management of the modest school. Many parishioners were against the arrival of the sisters. Despite numerous sacrifices and a thousand and one difficulties, he succeeded in having the Sisters of Saint Joseph come to work at the school. He was sure that the sisters would win the esteem and confidence of all. In fact, by 1941, there were no longer any people against the sisters and all proclaimed how their children were changed for the better.

FOUNDERS
Sister Saint Alfred (Blanche Desnoyers)
Sister Saint Louis Bertrand (Marie Phaneuf)
Sister Saint Josaphat (Marie-Louise Capistran)
Sister Saint Constant (Marie-Jeanne Goyette)

MISSION ACCOMPLISHED
In 1971, some sisters continued to live in Notre Dame of Stanbridge but taught in St. Ignace, Farnham or Laprairie and this until 1987. In June 1993, the sisters left the parish.
Go back to last page