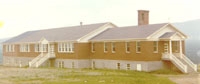 1951-1963



GEOGRAPHICAL LOCATION
This parish is in the diocese of Sherbrooke. The town is 27 kilometres from Scotstown on the way to La Patrie. The parish is not far from Lake Megantic.

FOUNDING
Three consecutive parish priests had looked at the possibility of getting sisters to teach the local children. The superior general, Mother St. Jean Berchmans (Blanche Meunier) had accepted this founding but had not sent any sisters. When a new request was made by Father Emery Picard, Mother St. Madeleine de Pazzi (Sara Cordeau) felt obliged to honour this promise. The sisters arrived in August 1951.

FOUNDERS
Sister du Christ Roi (Simonne Dauphinais)
Sister St. Catherine de Ricci (Alice Fréchette)
Sister Thérèse du Divin Coeur (Thérèse Latraverse)
Sister St. Isabelle (Isabelle Lambert)

DEPARTURE
On July, 1963, the sisters left Notre Dame des Bois for good, after having been present in this parish for 12 years.
Go back to last page