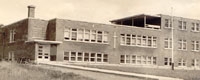 1944-1981



GEOGRAPHICAL LOCATION
This parish is in Iberville County. It is surrounded by the parishes of Marieville, St. Brigide, St. Alexandre and Iberville.

FOUNDING
Father Armand Guertin, parish priest of St. Gregoire of Iberville wanted sisters to take on the management of the town school. In June 1944, Mr. Wilfrid Charbonneau, president of the school board, Mr. Omer Brodeur, and Mr. Adrien Lazure went to the Mother House to ask for some sisters to teach the children. Mother Saint Jean Berchmans (Blanche Meunier), superior general, promised to see to this. The parish priest then came to make the same request. The general council agreed. On September 8, 1944, two sisters took up residence in the stone house in whose chapel Blessed Brother André had been baptized.

FOUNDERS
Sister Saint Gaetan (Annette Péloquin)
Sister Marie du Calvaire (Alberta Éthier)

DEPARTURE
A new school was built in 1956 and was added onto in 1968. The sisters left the parish on July 3, 1981.
Go back to last page