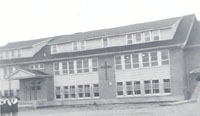 1949-1963



GEOGRAPHICAL LOCATION
The township of Laverlochere was made a parish in 1909 by Bishop E. A. Latulipe who gave it the name of St. Isidore. This parish is situated 12 miles south of Ville Marie.

FOUNDING OF THE CONVENT
When Father Ulric Arpin arrived in Laverlochere, he immediately worked for the construction of a school that would be appropriate for the school children of the town. The old school, built in 1908, was not very comfortable and much too small for its hundred or so students. For several years, the population had hoped for sisters to take on the education of the children.
In the spring of 1949, the parish priest presented the request of the members of the school board to Mother St. Madeleine of Pazzi (Sara Cordeau). This request was accepted and, at the beginning of September, the convent was ready.

FOUNDERS
Sister St. Emerentienne (Jeanne Lacroix)
Sister Joseph of Bethlehem (Albanie Blain)
Sister St. Armand (Cédonie Rivard)
Sister Rita of Jesus (Rita Cournoyer)

DEPARTURE
IN June 1963, the sisters left the parish of Laverlechère after 14 years dedicated to teaching the local children.
Go back to last page