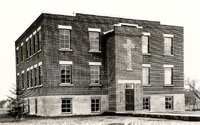 1949-1962



GEOGRAPHICAL LOCATION
The town of Kingsey Falls got its name from the numerous falls and picturesque rapids that are found on the southern branch of the Nicolet River. The town is part of the Nicolet Diocese.
Kingsey Falls is west of Tingwick, south of Warwick, south-east of St. Seraphine, east of St. Lucien and north of St. Felix of Kingsey and of Danville.

FOUNDING
Mother Sainte Madeleine de Pazzi (Sara Cordeau), superior general, at the request of Father Arthur Bergeron and of the members of the school board, promised some sisters for the town school, for September 1949. And so, a school with a residence for the sisters was built. On August 23, 1949, Father Bergeron welcomed the sisters with kindness and invited them to have supper with him.

FOUNDERS
Sister Bernadette de Marie (Rollande Deslandes)
Sister Therese de la Charité (Bernardine Martin)
Sister Jeanne des Anges (Marguerite Dubois)
Sister Therese du Bon Pasteur (Thérèse Cournoyer)

DEPARTURE
On May 6, 1962, some Montreal Franciscan Missionaries of the Immaculate Conception came to ask for information about the school with a view to taking over from the Sisters of Saint Joseph in 1962. They subsequently accepted and took over later that year. However, after 13 years of service to the students of this town, they, in turn, left the parish.
Go back to last page