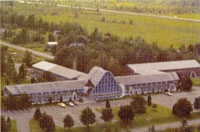 1971-1994



GEOGRAPHICAL LOCATION
The «REGINA MUNDI» monastery of the Trinitarian Fathers and the parish of Holy Trinity whose church is a part of the monastery were founded in 1958. The plan was that this monastery would also be a hostelry for ageing priests. Since this plan did not succeed, a residence for the elderly was opened instead.

BEGINNINGS OF THE PROJECT
On December 10, 1971, the Sisters of Saint Joseph took over from a secular institute sister, Ms. Rose-Hélène Martin.
Two S.J.S.H. sisters arrived at the guest house around 11:00 a.m. and that same afternoon were already at work, serving the twenty elderly persons in their care. Their responsibilities included keeping the building clean.

FOUNDERS
Sister Cécile Leduc
Sister Rachel Belcourt

The sisters had their rooms on the second floor of the east wing, above the reception office. Eventually there were six sisters working at the hostelry because of the increase in elderly people under their care.

DEPARTURE
On February 18, 1994, Sister Denise La Barre, regional superior, after having met with Father Michel Vigneault and Father Armand Gagné, informed the sisters that they would be leaving Montplaisant in the summer of 1994 after having served there for 23 years.
Go back to last page