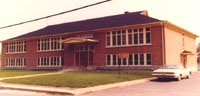 1895-1908 et 1924-1991



GEOGRAPHICAL LOCATION
The town of St. Sebastien is on highway 7, between Henryville and Pike River. The surrounding towns are: St. Alexandre to the north, Venise en Quebec to the south, Henryville to the west, Clarenceville to the south west and Pike River to the east.

FOUNDING
Father Gaudreau asked for Sisters of Saint Joseph for the town school. The request was granted by Bishop Louis-Zéphirin Moreau.
The sisters arrived in 1895 and took up residence in a school built on the road to the Bay. For 13 years the sisters dedicated themselves to teaching at this school. Since the school was too small and too far from the church, they withdrew in 1908.

FOUNDRESSES
Sister Marie Joseph (Adèle Dancause)
Sister Marie du Crucifix (Philomène Benoît)
Sister St. Ignace de Loyola (Marie-Louise Gatien)
Sister Marie du St. Esprit (Olympe Duchesneau)
Sister Marie du Rosaire (Cornélie Lussier)

RETURN AFTER 16 YEARS OF ABSENCE
Sister St. Marie Bernard (Alice Bourassa)
Sister St. Jean de Dieu (Ida Girard)
Sister St. François Xavier (Yvonne St.-Pierre)
Sister Marie des Cherubins (Graciosa Beauchemin)
On the day the sisters arrived, they were accompanied by Mother St. Joseph (Élisabeth Bergeron), foundress of the congregation and Mother St. Ignace (Marie-Louise Gatien), assistant superior general.

DEPARTURE
On June 27, the sisters left their residence in St. Sebastien and moved into the rectory in Venise en Quebec. The team of sisters then worked in the parishes of St. Sebastien, Venise en Quebec and Henryville.
Go back to last page