Croydon (St. Mary School)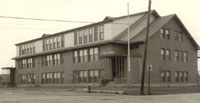 1959-1965



GEOGRAPHICAL LOCATION
Croydon is situated south-east of the city of St. Hubert. Its neighbours are St. Lambert, La Fleche, East Greenfield and Laprairie. It is approximately six miles from Montreal.

FOUNDING OF THE SCHOOL
In 1958, the St. Hubert School Board decided to build a school in order to centralize the English-speaking students. The school authorities asked Mother Sainte Madeleine de Pazzi (Sara Cordeau), superior general, for some sisters to administer this new school. The request was granted in 1959.

FOUNDERS
Sister Saint Frederic (Yvette Guérin)
Sister Marie Emilie (Yvonne Dansereau)
Sister Elisabeth de la Charité (Élisabeth Frappier)
Sister Jeanne du Saint Sacrement (Jeanne Sirard)
Sister Joseph de la Trinité (Béatrice Benoit)
Sister Therese de la Providence (Thérèse Benoit)

DEPARTURE
On June 1965, the sisters left St. Mary School for good. They were replaced by the Sisters of the Holy Spirit, an American order of sisters already residing in Greenfield Park.
Go back to last page